Mark Angelo Lopez LLC
Meeting All Your
Excavation Construction Needs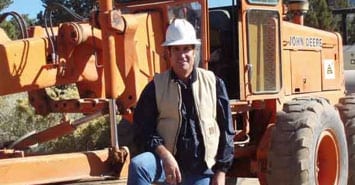 Mark A. Lopez, Company President
Do you need infrastructure and land development construction services? Turn to Mark Angelo Lopez LLC.  I utilize my extensive industry experience to help ensure my team performs exceptionally in each construction project. My company strives to meet—or even exceed—each client's expectations.
Serving clients in Santa Fe and its surrounding communities, my team works on the following:
As a fifth-generation Santa Fe native, I have extensive knowledge about the city and county codes. This expertise allows me to foresee any challenges related to infrastructure and land development. By anticipating these concerns, everyone in my company becomes efficient.
A Solid Team of Professionals
With more than 18 years in the business, I have expanded my network in the industry and have connections with local planners, engineers, and surveyors who design plans. The great rapport I have created with them has been instrumental to the great accomplishments of Mark Angelo Lopez LLC.
Let us know how we can be of service to you.
Mark Angelo Lopez LLC